No printing process alone can cover the diverse label production requirements of the branded goods industry. That's why it's an advantage when a company with in-house developed digital, flexo and all-in-one technologies can leave all options open for label manufacturers to cover these customer requirements with solutions from a single source.
Beyond high-end machines for the production of folding cartons, corrugated board packaging and flexible packaging, Bobst's technologies today also make it a leading provider of solutions for label production. The company even maintains a competence centre, specialised in the label market in Florence, Italy, where the experts present their entire oneLABEL portfolio. This includes various digital printing and flexographic printing machines developed in-house. A highlight of the oneLABEL portfolio includes the modular all-in-one/all-inline machines which combine conventional and digital printing and finishing technology in a special way. They thus enable a previously unattained flexibility in label production.
"Label, packaging and brand manufacturers from all over the world come to us to discuss the latest label production requirements. Since we can cover the entire spectrum with our solutions here, our experts do not favour any particular production technology. Instead, interested parties can compare all the production processes in question in our competence centre and test which technology is best suited to their requirements under real production conditions," explains Matteo Cardinotti, General Manager of Narrow & Mid Web Printing & Converting at Bobst.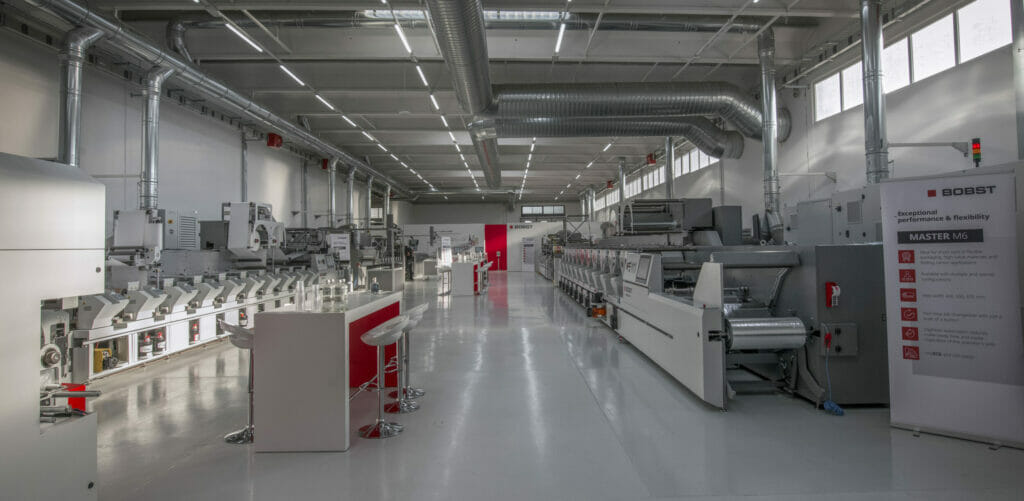 All of Bobst Group's activities are guided by its "Industry Vision", which aims to shape a new future in packaging production. The focus is on digitalisation, automation, connectivity and sustainability. These topics are also the focus of the oneLABEL Competence Centre. Thus, the experts take a holistic approach with their visitors to look at the overall picture of how label production can be optimised. Because it has long since ceased to be just about the "pure" production process.
"Our customers are looking for ways to realise fully digitalised end-to-end workflows in which production-relevant information flows automatically between all process participants: from the PDF files to logistics. Together, they then succeed in switching to efficient, flexible, safe and resource-saving production in the sense of Industry 4.0, which allows them the shortest response times in the market," explains Cardinotti with great emphasis.
Digital printing in label production
According to analysts, more than 30 per cent of all labels are already printed digitally. Inkjet printing in particular will continue to grow in this market. It has now established itself in a number of applications. Examples include small to medium label runs for fast-moving products as well as individualised and personalised labels. Digital printing is also increasingly being used for smaller label runs that are produced with special colours, high data content or from expensive substrates.
Bobst serves this market with the Mouvent family of digital presses that combine exceptional print quality with fast production changeovers, flexibility in printable materials, ease of operation and low total cost of ownership. These presses feature unique inkjet technology that integrates ink supply, electronics and mechanics in close proximity to the printheads. This allows for high quality and accuracy in printing as well as full process control.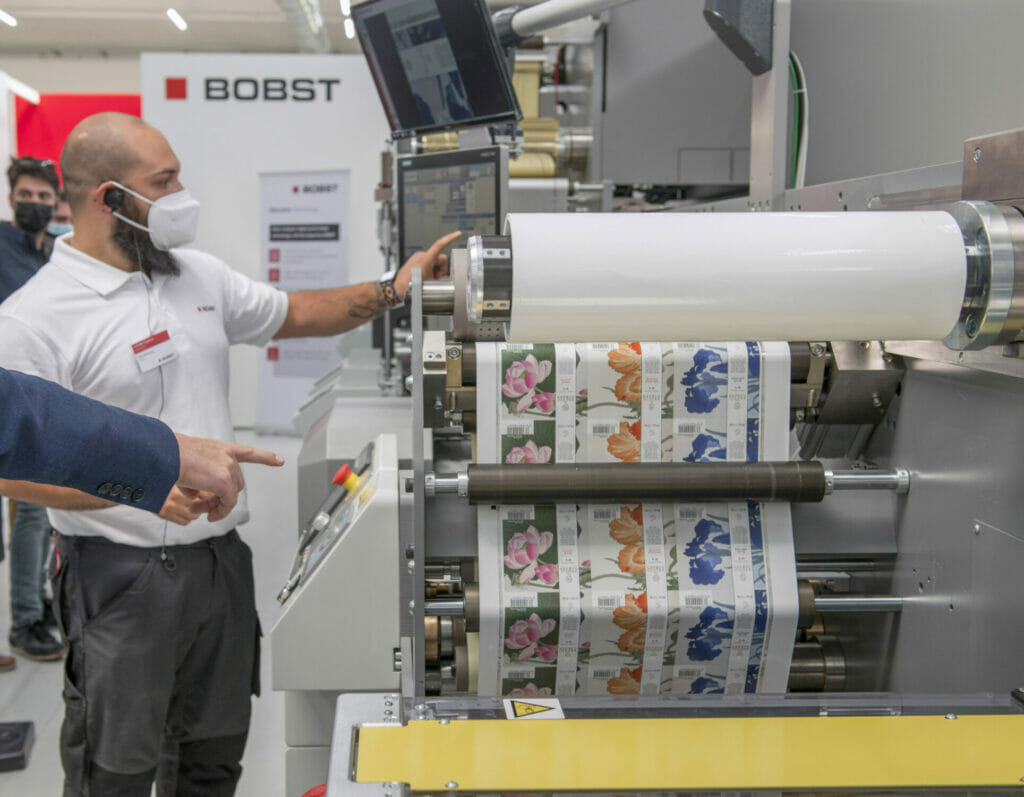 With the Mouvent digital presses, Bobst offers optimal solutions for entry-level digital production of small to large label runs. With the LB702-UV, up to 200,000 square metres of labels can be produced per month at print speeds of up to 100 metres per minute and minimal waste with just one operator. With a maximum print width of 340 millimetres, it prints on a wide range of materials with up to six colours and with white at 70 per cent opacity. The machine processes rolls with diameters of up to 1,000 millimetres.
All-in-one/all-inline machines close the gap
Regardless of the growth in digital printing, flexo printing remains the first choice for many label applications today: in addition to other plus points, it is characterised by particular flexibility, as a wide range of different materials can be printed in high quality with this technology. With the Master DM5, Bobst has developed an all-in-one/all-inline press in which conventional and digital technology form an efficient symbiosis. It is the flagship of the oneLABEL portfolio. "The Master DM5 uses the latest technology, which, including the digital printing unit, was 100 per cent developed by Bobst. This enables a uniquely deep integration into an inline process that, with its high level of automation, guarantees short makeready times, maximum availability and optimum repeatability, all at a competitive total cost of ownership," Cardinotti points out.
This machine can be used to profitably produce runs ranging from small to one million labels. At speeds of up to 100 metres per minute, the machine prints and finishes a variety of different materials and die-cuts the labels. Thanks to the digital automation of all modules, the Master DM5 allows job changes "on the fly", i.e. without stopping the printing process. Another advantage of the high degree of automation of the compactly designed machine is that it can be operated by just one person. The feedback from users has been consistently positive.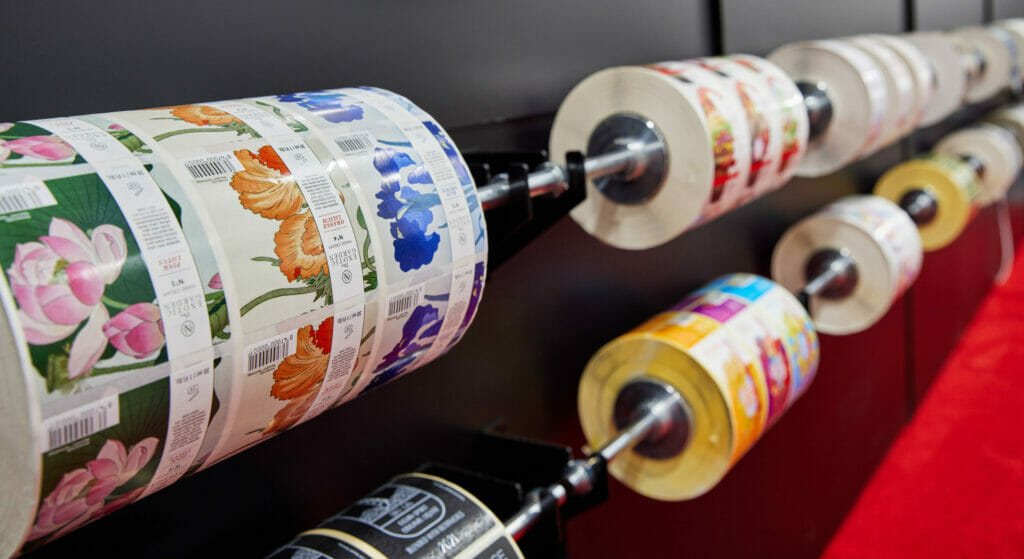 "The Master DM5, with its high native resolution of 1,200 x 1,200 dpi and CMYK OV and white colours with 70 per cent opacity, prints exceptionally sharp images with vivid colours, the finest lines and smoothest gradients, covering a very wide colour gamut. This solution closes the gap between digital toner technology and conventional flexo printing with cost-efficient production of long runs at the highest print quality and ease of use," Cardinotti summarises.
The modular machine is flexibly configurable for individual requirements and can be retrofitted with various modules, such as a Delam/Relam module for the production of multi-layer labels.
Bobst's DigiFlexo automation technology further minimises makeready times and waste on the Master DM5. Cameras are installed in each flexo printing unit. This enables digital control of register and print supply during makeready and production. Another option is Bobst's Ink-on-Demand (IoD) technology. It saves customers from having to work with ink trays and squeegees. Instead, only a minimal amount of ink remains in the flexo printing units, which guarantees significant ink savings during production changes.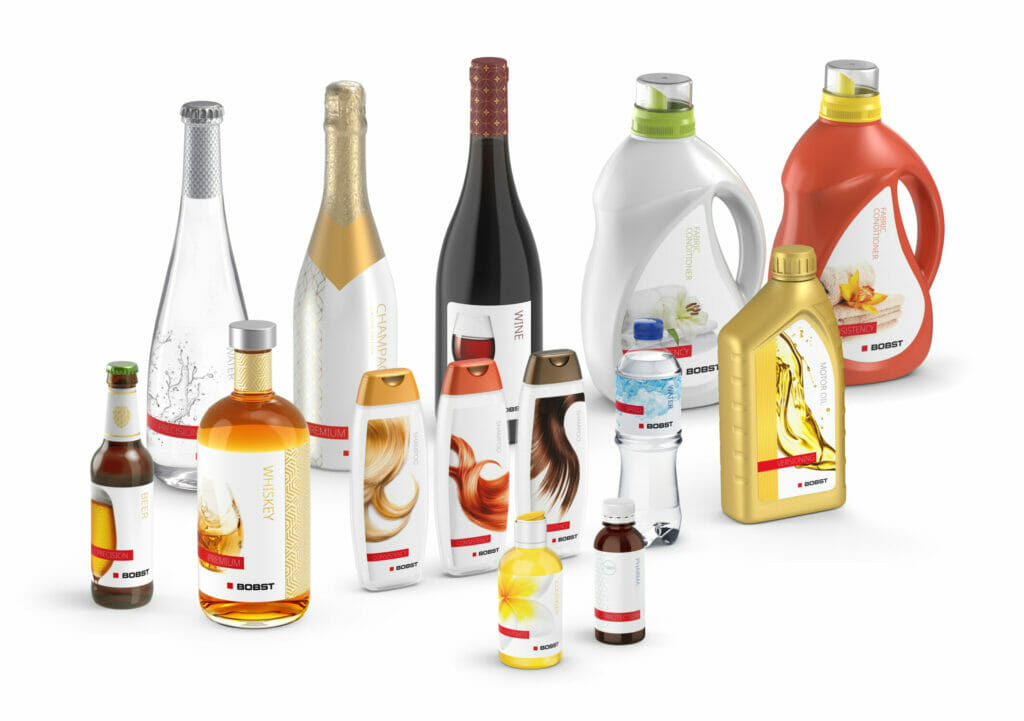 Just how far Bobst has now advanced the digitalisation of the flexo process in packaging production is demonstrated once again by the high-performance Master M5 and M6 presses in the oneLABEL portfolio. In addition to DigiFlexo and IoD, they can be equipped with, among other things, oneECG technology for printing with a fixed ink set and Bobst's DigiColor "closed-loop" inline colour system. They also offer impressive productivity with automation features including Excelprint for automatic job changes for uninterrupted production, Print Tutor for automatic register settings and control, and Print Tutor Plus for fully servo-controlled print matching.
"With the oneLABEL portfolio, Bobst offers its customers migration options from entry-level digital label printing to high-performance production of large label jobs, including finishing and postpress," Cardinotti summarises.