CCL's EcoFloat shrink sleeves have been trialed by PET recycling specialist Extrupet for the South African market. The polyolefin sleeves, that automatically detach themselves from PET bottles during the recycling process, have been approved for the local recycling system.
After having been successfully introduced into the markets in Europe and the USA, CCL announces that their EcoFloat shrink sleeves have successfully been trialed in South Africa by PET recycling specialist Extrupet and have been approved for the local recycling system. This marks the arrival of the first approved shrink sleeve decoration solution for the PET beverage market in South Africa and will help boost recycling rates in the future.
ÔÇťIn the past shrink sleeves have been made from PVC or PET and have always been viewed as a great way to decorate PET bottles because they stand out on shelves and can easily contain all needed information on the container like nutrition information or recycling codes, but they have been viewed as problematic in recycling ÔÇô and had to be removed by hand to not contaminate the PET resin.ÔÇŁ

Shivern Reddy, Business Development Director of CCL in South Africa
South Africa has undergone different legislation changes in the past years. This new legislation makes an ÔÇťExtended Producer ResponsibilityÔÇŁ (EPR scheme) mandatory for all producers and importers of packaging. It changes how producers, brand owners, retailers and importers design, make, sell and keep their products in the recycling loop as far as is practicably possible.
ÔÇťBut this material is new – as EcoFloat sleeves are made from low density polyolefin material they make the difference in the crucial sink/float recycling step at the PET recyclers. The sleeve material automatically detaches from the bottle and floats…this allows for a clean separation from the heavier PET flakes that sink to the bottom of the washing basin. This easy separation forms the basis of the yield of high-quality PET flakes that can be used in bottle-to-bottle recycling, closing the loop.ÔÇŁ

Marika Knorr, Head of Sustainability and Communication at CCL Label
Leading up to the trials of the new shrink sleeve material CCL Label and Coca-Cola had entered a partnership to prove the feasibility of substituting the materials used for sleeves in the past with EcoFloat. ÔÇťWe were proud that Coca-Cola as a first-mover partnered up with us for application and design trials to show that the new material works with the high standards that Coca-Cola is setting in design ÔÇô all whilst being committed to an improved packaging sustainabilityÔÇŁ.
Quelle: CCL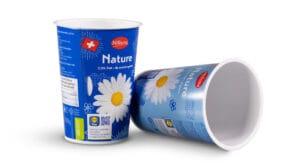 The dairy company Molkerei Forster is using Greiner Packaging's K3 cups, which self-separate during the waste collection process.
Weiterlesen ┬╗