Our anniversary is also an occasion to look back at the beginnings. 20 years ago, the first issue of packaging journal was published with many topics, some of which are still topical today. We talked about this with the founder of the publishing house, Elke Latuperisa, and took a look at the first issue.
Up until 2002, the Cologne publishing house, Ella Verlag, specialised in tourism topics with the travel magazine, "Reisen Exclusiv", the insider tip supplier for Dutch readers, "Duitsland Magazine" and the public magazine, "Weihnachtsmarkt". So, a packaging magazine was a real outlier in the company's portfolio. "We launched Packaging Journal at the time because another publishing house was parting with a packaging title at the time," says publishing house founder, Elke Latuperisa. "We replaced the title with Packaging Journal – with the expert help of an editor who knew the industry well."
It was a courageous step at a time "when more magazines have to be discontinued due to falling advertising revenues than new titles are coming onto the market", writes the then editor-in-chief in his first editorial. But the first issue proved that it was possible to launch a trade magazine even in the economically difficult year of 2002.
"The Packaging Journal was never an official organ of an association, because it was always important to us to be independent."
This courage paid off: 20 years later, it is hard to imagine the market without Packaging Journal. "At first we were ridiculed as a newcomer to the market. Later on, others took over some of the things we introduced," says Elke Latuperisa. "The Packaging Journal was never an official organ of an association, because it was always important to us to be independent." From the beginning, the principles also included the exclusivity of the articles. "Articles had to be exclusively for us or appear as a first publication in our magazine. Occasionally, I took interviews out again before publication if they had already appeared in other media."
Packaging Journal was the first German trade magazine to publish an English-language summary of each article. "This was our service, especially for non-German-speaking trade fair visitors, for whom we wanted to arouse interest in the exhibiting companies and their products in this way." Since the beginning of 2022, the summaries have been replaced by complete English-language articles, accessible via a QR code in the magazine that leads to a separate English-language section of the website. The readership is already enthusiastic.
A look at the first issue
Issue one was already about innovative label solutions, barrier materials, the opening of a recycling plant for PET bottles, packaging design and market data, for example from the folding carton industry association. The focus, however, was different: labels with metallic effects or relief printing were in demand back then, as were multilayer hybrid solutions made of plastic and cardboard or wafer-thin polymer coatings that were to make cardboard boxes fit for use as packaging for sensitive foodstuffs.
However, one top topic that dominates today's reporting was completely missing: sustainability. Only futurologist, Matthias Horx, used the term in an article entitled "Dawn of the Human Touch Age". In it, the trend researcher considers the humanisation of technology to be the main trend of technological development in the 21st century. Taming modern technologies and adapting them to human needs and possibilities is the core challenge and a great opportunity for intelligent, smart companies. Smart technologies must, however, observe the principle of sustainability by not leaving any undesirable effects on the environment, psyche or body. A statement that is still very much relevant.
On the move in all channels
The print edition has long since become just one part of the portfolio. Since Jennifer Latuperisa-Andresen took over Ella Verlag from her mother in mid-2019 and Jan Malte Andresen became the new editor-in-chief of Packaging Journal, the digital offering has been continually expanded and new formats added. For example, the editorial team provides the industry with daily online news, not only on its own website, but also on Facebook, Twitter, Xing and are very successfully with around 15,000 followers on LinkedIn. As the first packaging magazine, Packaging Journal regularly reported with moving pictures, starting with the TV magazine, talks with industry experts such as Gunda Rachut (Zentrale Stelle Verpackungsregister), J├Ârg Deppmeyer (Duales System Deutschland), R├╝diger Goetz (Peter Schmidt Group) or Kim Cheng (Deutsches Verpackungsinstitut), and talk rounds with representatives from business and associations on topics such as sustainability, circular economy and plastics – broadcasting live and later making them available at any time on the website as well as on LinkedIn. In addition, as a cooperation partner of Messe D├╝sseldorf, Packaging Journal provides all contributions for the Interpack magazine, Tightly Packed, and is already preparing for the big trade fair which will be aired live on TV next May.
"Back then, it took a long time for Packaging Journal to become established in the industry," Elke Latuperisa sums up. "But I have never started a project and then given up." A perseverance that has certainly paid off.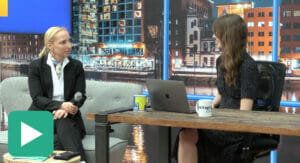 VIDEO ÔÇó Prof. Dr. Martina Peuser, Leibnitz Fachhochschule Hannover, spoke about agility and how the packaging industry can profit from it.
Weiterlesen ┬╗