It's not a new technology and most people hold it in their hands when buying breakfast – fibre cast packaging. In the search for sustainable packaging alternatives, the process is currently experiencing increased demand. The fibre casting expert, Papacks, has been involved in the hunt since 2011. Unlike its competitors, however, the company does not use recycled fibres, but fresh fibres from tree and hemp cultivation.
At the Innovation Hub in Cologne, founder Tahsin Dag takes customers and those who want to become customers on a journey. There is a real treasure in the conference room: a bottle for scouring milk – made of fibres that are more than 100 years old. For the packaging that we know today, which are commonly made from materials such as synthetics and glass, there was already a different solution, centered in the past.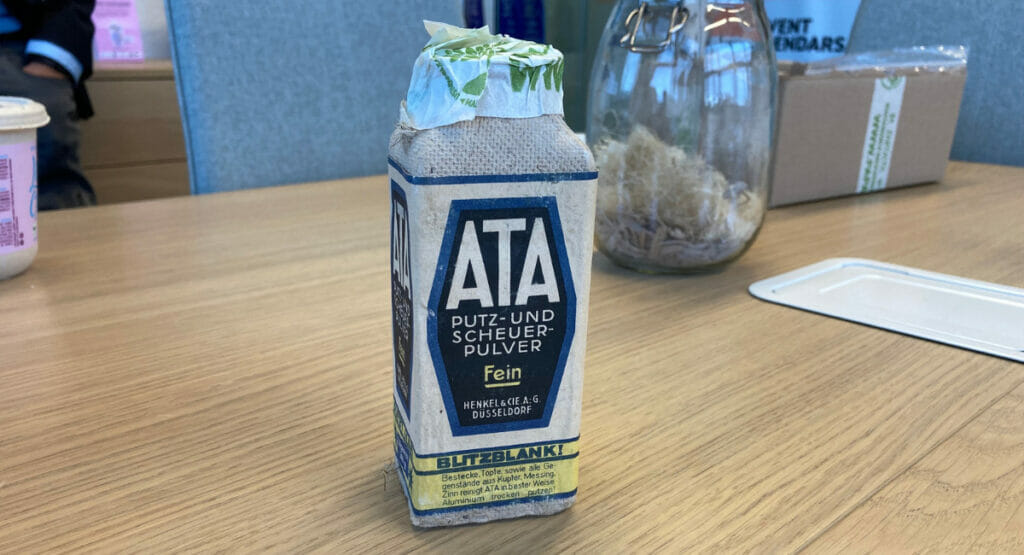 Today, the industry is again working on bringing bottles made of fibre-based material to the market. Tahsin Dag and Papacks are also among them and are working especially on organic barriers and closures, with the goal being to rid themselves completely of synthetics. Such "hybrids" then consist entirely of organic material and the need for such solutions is already being felt — the fibre bottles are among the company's bestsellers and so the question of the closure must also be solved.
Transport packaging as an important sector
Packaging for the food and cosmetics industries are two important areas for the packaging manufacturer. But Tahsin Dag also sees great potential for fibre casting solutions made of hemp in the area of transport packaging. The thickness of the packaging can be between one and six millimetres, depending on the application, which ensures high stability. In addition, the material is light and thus a good alternative to the expanded polystyrene (EPS) that has been frequently used up to now.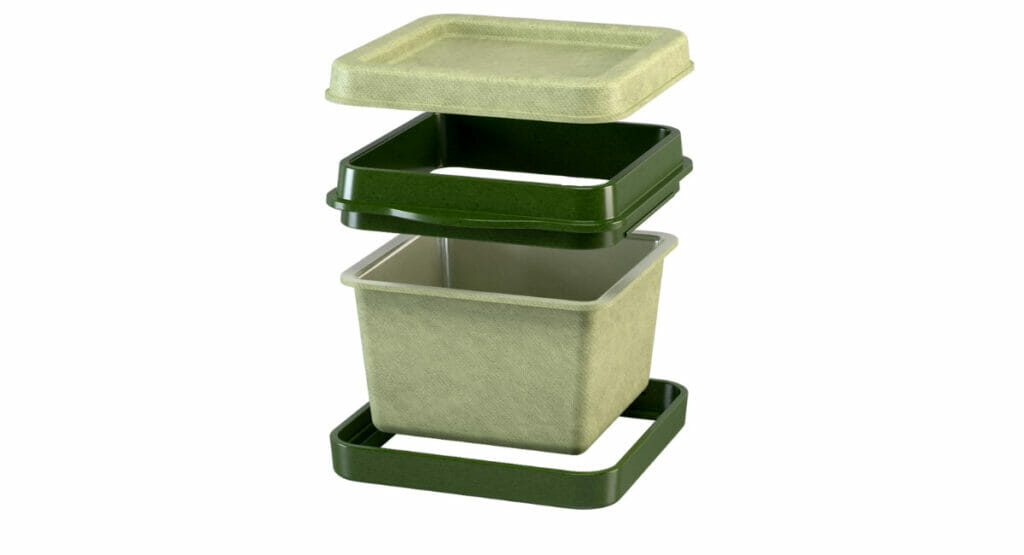 In Europe, Papacks is one of 40 fibre casting manufacturers. Almost 89 per cent of these work with recycled fibres. Papacks opted for a different approach and relies on virgin fibres made from hemp and tree fibres as well as other regional renewable raw materials. Similar to the technology itself, hemp is a time-honoured material that has partly fallen into oblivion. In recent years, however, packaging made of hemp paper has become increasingly popular and Tahsin Dag also emphasises the advantages of the fast-growing raw material. The company also uses a niche and generates the raw material from Germany or its own cultivation in Ukraine.
Fibre casting as a rediscovered technology for packaging
Thanks to the upswing in fibre cast packaging, all companies can currently look forward to a good order situation. Papacks is particularly involved with Blue Ship Companies with individual large projects and is pleased about the continuing interest. Challenges along the way included the development of an effective barrier, but also the establishment of regulations and standards.
"When you do pioneering work, invent things, set up machinery for it, design, research and bring it all together, then you must not forget the regulations. But they didn't exist yet in fibre casting and we had to go to a lot of trouble and invest a lot in green technologies, laboratories, and new test methods, all because you come from the plastic worldand want to replace it. But how can that be done? And those were big challenges: data sheets, standards that didn't yet exist in fibre casting."

Tahsin Dag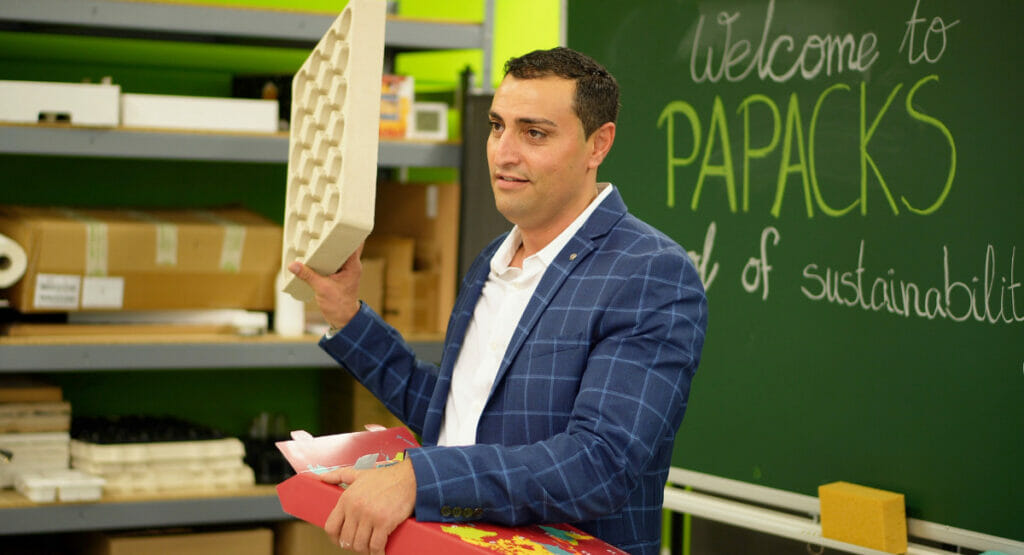 Now, the packaging is suitable for products from different industries. The food, cosmetics, pharmaceutical and transport sectors are particularly relevant. With Refill-Caps, Papacks is also taking a lead in the field of reusable packaging. In the long term, a hybrid cap solution can even completely replace the glass or plastic container with a fibre-based solution. In a project with the Cinedom cinema in Cologne, the nacho shells made of plastic were replaced by those made of fibre castings. Especially at Christmas time, the technique is popular for producing plastic-free inlays for Advent calendars.
Waste products become new raw materials
Even though Papacks has chosen hemp as the material for its packaging, fibre castings are particularly suitable for utilising by-products or waste that is always produced in agriculture. For example, the beet pulp that is left over at the end of sugar production can serve another purpose and be used as a material. For fibre castings manufacturers, these are important raw materials from which new packaging can be created.
"We can process this raw stuff with our technologies and recover the fibre. From this, depending on the product application, we can prepare the fibres with our organic coatings and produce a new product – packaging. And all of this is plastic-free."

Tahsin Dag
After testing different materials, Papacks decided to stick with the Hanffaser and acquired an area of 2,000 hectares in Ukraine for its fast growing materials.
Association for Fibre Casting in Europe
In order to bring the industry together in Europe and to have a common voice, an association has now also come into being in which the Papacks founder is involved. The European Molded Pulp Producer Association (EMPPA) met for its first meeting in Berlin in October 2022 and began its work. Tahsin Dag is particularly proud of the fact that it was possible to bring the industry together around one table:
"The European Molded Pulp Producer Association is the first European fibre casting association. There are only two in the world and we are very proud to be one of them now because we have brought the whole industry together. We want to go into green lobbying, question recycling systems and see how to bring circular economy forward."
Among them are well-known companies and personalities. Fritz Rudolf Körper, former state secretary, brings his experience from 40 years in politics as managing director of the association. Franz Jäger from pulp-tec supports the activities as treasurer and, like the other members from European fibre casting companies, brings his knowledge of the industry.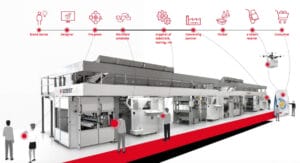 The cloud-based data and remote service platform Bobst Connect plays a central role in realising the vision of the transforming the packaging world.
Weiterlesen »