MC-Bauchemie, an internationally active manufacturer of construction chemicals, has switched its packaging concept to sustainable stretch bonnet solutions from MSK. The stretch bonnet gives the products high load stability and protection from the weather. A connected MSK pallet logistics system with conveyor technology over two floors ensures fully automatic pallet transport.
Because the previous packaging systems at both its Bottrop and Esslingen plants were beginning to wear down over the years, MC-Bauchemie contacted packaging machine manufacturer MSK some time ago about an alternative packaging solution. Until then, the company had been using stretch wrappers to pack its products such as sacks, buckets, canisters, drums and cartons. In close cooperation between MC-Bauchemie and MSK, an extensive series of test trials began to develop the optimal packaging solution for these chemical products.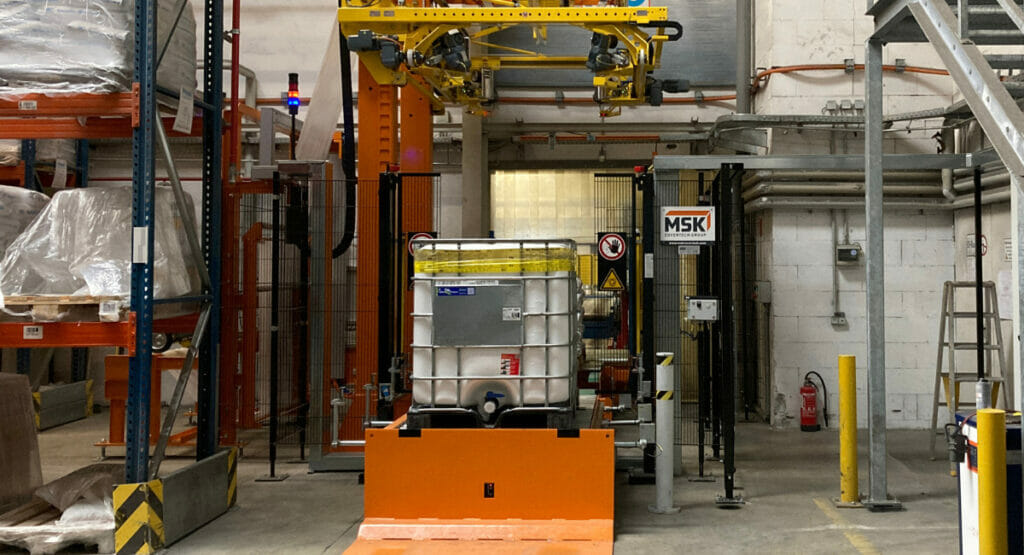 MSK was not the only machine builder with whom the construction chemicals manufacturer went in search of a new plant concept. The comparative test trials in Kleve finally convinced the company of MSK's sustainable and stable bonnet stretching technology.
"Most of our products go directly to the construction site, and they are thus better protected from the weather. In addition, we have less film consumption per loading unit, which is important for us especially in the area of sustainability. Process speed, weather resistance and lower material usage are decisive advantages of stretch bonnet packaging for us."

Burkhard Bergmann, Head of Logistics Systems & Maintenance at MC-Bauchemie
Within a short time, MC-Bauchemie ordered three MSK Tensiontech stretch bonnet wrapping lines for its production plant in Bottrop. A pallet logistics system with a connection to the stretch bonnet system was also installed. Finally, a new MSK Wraptech bonnet stretcher followed at the Esslingen plant in 2022.
Resource-saving bonnet stretching technology
Compared to the previous systems, which wrap the load units with film both vertically and horizontally, the stretch bonnet is an efficient and sustainable packaging solution. The products are stably packed for transport and storage and safely protected against dust and moisture by the closed bonnet. The patented MSK device for gathering the film (EP 1 353 847) and MSK vertical film tightening process (EP 1 717 148) allow thin films and minimal film consumption. The lines operate very reliably, with no downtime for reel changes and low energy consumption of less than 0.07 kilowatts per pallet. For maintenance work, the machine head can be lowered to working level.
A number of reference visits have already taken place at MC-Bauchemie's plants with interested manufacturers, in which those responsible for the project at MC-Bauchemie have expressed their satisfaction with the technical and interpersonal handling of the project as well as the service. "The projects in cooperation with MSK were all characterised by a high level of professionalism. The communication is good. The installations fully correspond to what was agreed upon. We feel very well looked after as a customer," explains Burkhard Bergmann.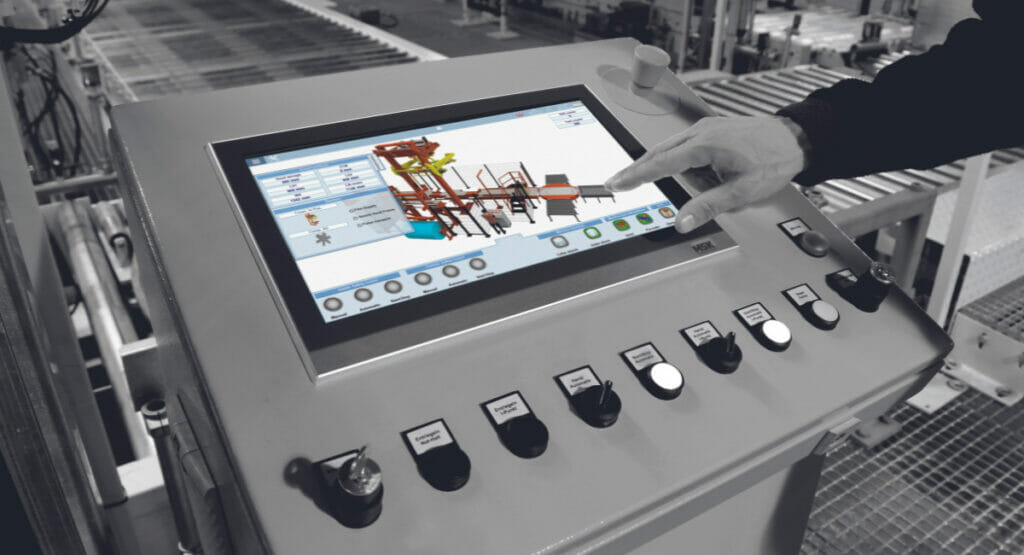 Plants for chemical building materials
"When packaging our construction chemical products, important criteria include load safety, MFH suitability, speed and resource conservation in addition to weather resistance," says Burkhard Bergmann, explaining the requirements. In the Bottrop plant, three MSK Tensiontech bonnet stretchers pack various building materials in bags, buckets and boxes on Euro pallets, each with a capacity of up to 90 pallets per hour. For the Esslingen plant, MC-Bauchemie opted for an MSK Wraptech bonnet stretcher specially developed for the building materials and chemical industry. The single-format machine is tailor-made for standard applications and packs bags, canisters and drums on Euro pallets and also transports IBC containers. All this with an output of up to 50 pallets per hour. The weight of the loading units is up to 1.5 tonnes. "MSK was most responsive to our wishes. The units are not off-the-shelf, but configured to our needs. The systems are also very robust and solid," Burkhard Bergmann adds, regarding the reasons for choosing MSK systems.
Automatic pallet logistics system
By placing the film on the top board of the pallet, the bonnet stretchers enable a film-free pallet foot, the so-called MSK collar stretch. It enables easier pallet handling with forklift trucks or in an automated rack storage. After the load has been secured by the MSK collar stretch system, an MSK pallet conveyor system takes over the pallets and conveys them over two floors to defined pick-up points for forklift trucks. The logistics system includes various roller conveyors, rotating segments and vertical conveyors.
The control of the conveyor system is connected to that of the packaging system. Visualisation of the entire system is made possible by the MSK EMSY software. This also offers maintenance management, remote maintenance or online diagnosis and provides consumption and production statistics. The clearly structured, intuitive user interface, easy-to-understand status information and simple, graphic-supported parameter settings allow for reduced operator familiarisation time.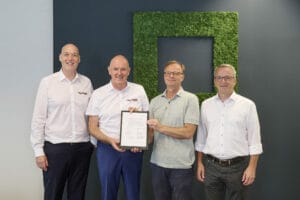 Patent holder Syntegon recently transferred the exclusive rights for the process of ultrasonic welding of uncoated paper to Herrmann Ultraschall.
Weiterlesen ┬╗