Both for can and PET bottle multipacks Graphic Packaging International introduces a beverage multipack machinery. ClipCombo is a modular system enabling companies to apply two different clip-style packs with a single machine.
Graphic Packaging International has launched ClipCombo, an innovative beverage multipack machinery system. This modular system offers beverage makers and packers the ability to apply two different clip-style packs with a single machine, optimizing production efficiency and enabling the differentiation of brands using premium and standard clip styles. ClipCombo offers flexibility. Along with the ability to switch between two pack styles in just minutes rather than hours, it can achieve top-line speeds of up to 400 packs per minute, depending on application and configuration.
ClipCombo has machine options that apply to either can or PET bottle multipacks. The innovation was hailed by Doug Hicks, vice president of the packaging machinery division at Graphic Packaging, who said,
"Innovation is at the heart of everything we do at Graphic Packaging. As the speed of change moves ever faster, developing effective solutions that address our customers' needs of today – and those of tomorrow – is critical to our combined success in reducing the reliance on plastic for a more sustainable future."
The versatility of ClipCombo will help lower capital investment for beverage packers, as the ability to deliver multiple pack styles with rapid changeover removes the need for several installs. This frees up space on the factory floor and reduces the number of operators required.
"ClipCombo increases the speed, scale, and flexibility of our clip-style packaging solutions to meet the needs of today's sustainability-driven market, and ensures our customers have the versatility they need."

Doug Hicks
Source: Graphic Packaging International
Graphic Packaging International at the drinktec: Hall A, booth 319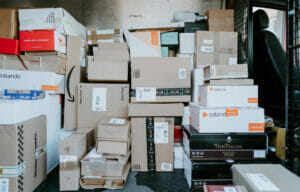 Since the Covid-19 pandemic at the latest, mail order has become an intrinsic part of all our lives. Where once it was considered an oddity to order books on the net, parcel delivery services have become an everyday sight in almost every residential area. And with the Christmas business approaching, parcel deliveries will once again hit all-time highs.
Weiterlesen »