Volpak, a Coesia company, is launching a new Enflex brand series for the pharmaceutical and healthcare market: Enflex PHS Series, which comes in different models depending on production needs. This machine range meets the specific requirements of an industry that is increasingly interested in flexible packaging, especially in the stick-pack format.
Flexible packaging is extremely practical for consumers, as it allows the easy consumption of the specific medication dose prescribed. It is also a good solution for single-dose drugs, as it allows storage of the specific drug quantity needed for a single use. Some of the most common applications are ophthalmic or oral-use products. Flexible packaging can also reduce waste, as the consumer can use the quantity of the drug they need while avoiding having to throw away excess products. Lighter and less bulky than a traditional bottle or blisters, this kind of packaging is also easier to dispose.
Flexible packaging can also improve distribution efficiency, as smaller and lighter containers require less material and less storage space. This, in turn, lowers transportation and storage costs, which are closely linked to sustainability, one of the main challenges for the packaging industry. For instance, many pharmaceutical companies already use low-impact mono-material pouches instead of (or in combination with) traditional PE materials. The use of fully recyclable materials is also widely spread and thanks to new studies and increasingly more advanced technologies, films are being developed with improved mechanical strength and product protection features.
Stick-pack is the ideal format
The Stick-Pack solution is especially popular in this scenario, as it addresses all the needs above mentioned. The stick-pack is a unit dosage format, perfect to contain and deliver liquid health products for oral and topical use. Serving its purpose to protect the contents from moisture, oxygen, and light, thanks to its small size and compactness, the unit dose is user-friendly and very practical for everyday life.
Volpak, Ea, offers the Pharma & Healthcare industry a portfolio of cutting-edge and fully compliant solutions. The addition of the Enfex PHS series is part of a strategy aimed at widening and improving the range of available systems, with solutions that are increasingly targeted to specific market needs. This is the reason this machine focuses on the production and packaging of single-dose stick-packs to be used within a medical and family environment. The Enflex PHS Series can not only offer superior production performance (depending on its configuration, it can reach 1800 stick-packs per minute), but it also meets sustainability needs, with a reduction of 42% in wrapping material usage compared to units that are currently on the market. It is also equipped with a servomotor-based energy recovery system, allowing for savings on energy costs.
The Enflex PHS Series is available in multiple-lane setups and can be configured to meet the customerÔÇÖs specific production needs. Regardless of the type, the whole Enflex PHS Series has a small footprint, with machines that can be effectively deployed even in small production areas. The format change operations are also easy on all machines: they can be completed quickly and with no special tools, which makes the Enflex PHS machine ideal for third-party suppliers and contractors as well as pharmaceutical companies. The OEE (Overall Equipment Efficiency) index of over 95% makes the Enflex PHS perfectly suitable for modern lean production needs and consistent with the Industry 4.0 framework.
Volpak at interpack: Hall 6, D31 / E57
Source: Volpak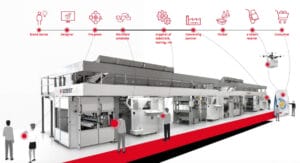 The cloud-based data and remote service platform Bobst Connect plays a central role in realising the vision of the transforming the packaging world.
Weiterlesen ┬╗