Efficient inline and "on-demand" printing solutions for the pharmaceutical industry are more in demand today than ever before. The focus of developments is always on two goals: reducing the high complexity in the packaging process and realising significant efficiency potential. The Swiss company, Hapa AG has more than 50 years of experience in this segment.
The triumph of pharmaceutical blister packaging, which began exactly 60 years ago, is closely linked to another innovation: with the introduction of the contraceptive pill two years earlier, the search for an easy-to-control dosage over a defined period of time had become necessary. When the first blister machine was introduced in 1962, the course was set. Within a very short time, this packaging format developed into a standard. Pharmaceutical companies very quickly used its advantages for other medicines as well. But how could these blisters also be flexibly labelled, marked and coded? Hapa AG was the first company to provide answers and subsequently acted again and again as an innovation leader.
From patents to printing presses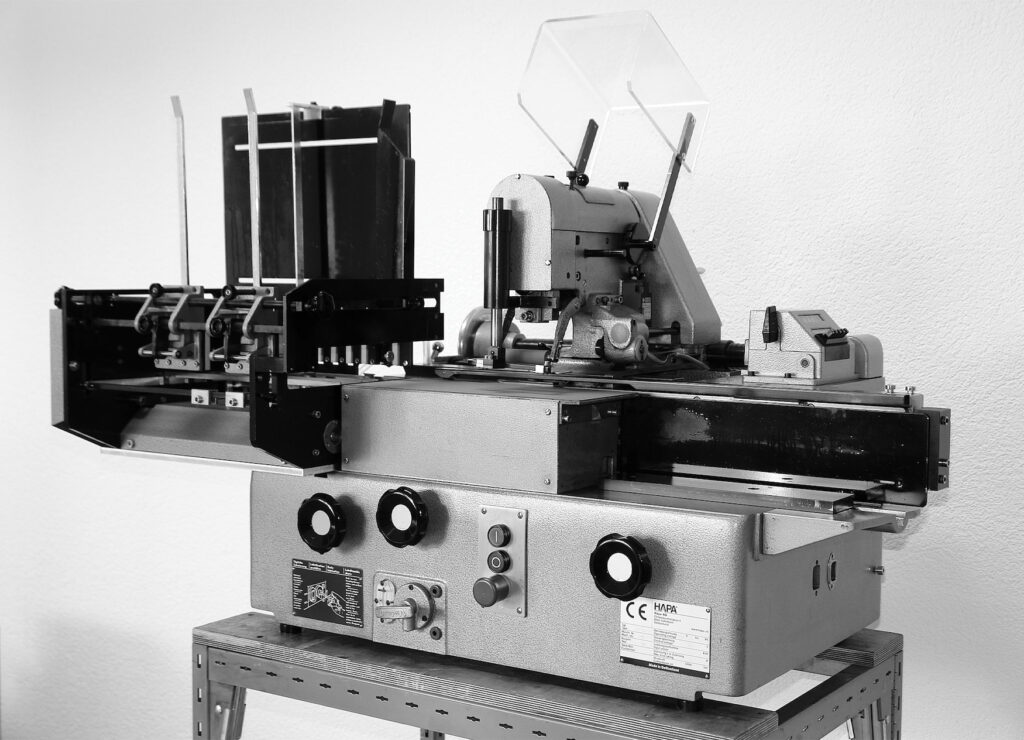 Today's Swiss machine manufacturer had already been founded in 1933 in Zurich by Curt Bäbler. The original purpose of the company was to "trade in patents". The name "Hapa" was derived from this. One of these patents was used by those responsible in developing a machine for coding cartons as early as 1953. Hapa sold several thousand copies of this "Druma" printing machine. It was Hapa's first entry into printing technology.
Printing technology in the pharmaceutical sector
When the new blisters appeared, Hapa recognised early on the special need for printing technology that would develop in the pharmaceutical sector. Not to mention what advantages could result if the printing process took place inline and be practically integrated into the blister production process.
When the Hapamatic was presented in 1970, it was the world's first inline printing system for printing aluminium foils for blister machines. The groundbreaking system convinced users immediately and for a long time, of the 2,500 units sold worldwide, hundreds are still in operation today. At the same time, the solution laid the foundation for an arguably unique understanding of highly flexible printing solutions in the context of pharmaceutical packaging. Today, the Swiss company, which finally moved to Volketswil in the early 1990s, has its headquarters there near Zurich and employs around 175 people, is the international technology and market leader in inline and "on-demand" printing solutions for the pharmaceutical industry.
"More than five decades of presence in this field and more than 10,000 Hapa systems installed in over 50 countries represent unique know-how in our industry."

James MacKenzie, Sales Director at Hapa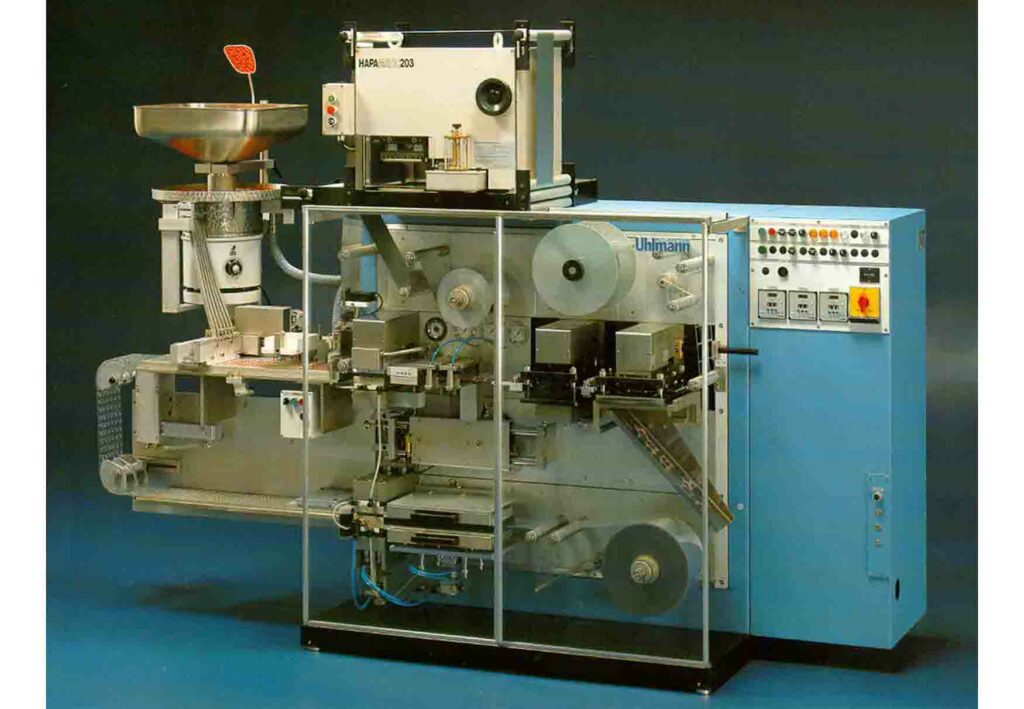 Up until the early 1990s, most blister lines were used primarily for high-volume blockbusters, as the number of market variants and thus small batches was much lower than today. The challenges posed by the increase in production of high-mix, low-volume products were met by Hapa with the introduction of two different inline technologies: UV flexo printing systems were joined in the late 1990s by an early form of digital printing technology based on risographic UV technology. This secured Hapa a leading position in the industry for printing system solutions and cemented its reputation as a technology leader.
And the experts' know-how was suddenly more in demand than ever. Because from the mid-1990s onwards, pharmaceutical companies wanted less and less to maintain costly warehouses with ready-made blisters and packaging materials. They started to order at short notice only when a need became apparent in their markets. In addition, countries and regions increasingly issued individual regulations on what types of information had to be placed on the blisters themselves. And finally – with the introduction of more medicines for specific target groups – batch sizes became smaller and smaller.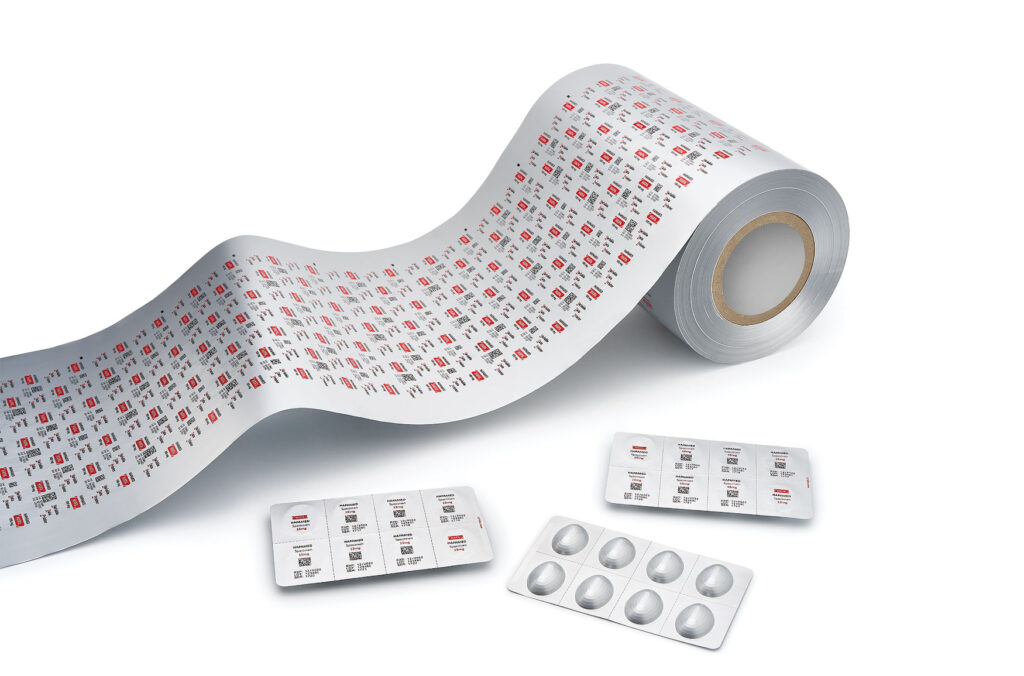 The impact on pharmaceutical companies was dramatic: the combination of small batch sizes and a growing number of complex changeover operations had a highly negative impact on metrics that evaluate pre-printed material inventories, lead times, overall equipment effectiveness, material usage and costs. The majority of pharmaceutical companies are still struggling to manage this complexity today. The buzzword, "lean production" was soon on everyone's lips and so were Hapa's solutions.
Thanks to their decades of cooperation with leading pharmaceutical companies and blister machine manufacturers, the specialists at Hapa immediately recognised the two central tasks that needed to be solved: How could blister orders with relatively small batch sizes be printed inline reliably, in high quality and with the shortest possible set-up times, ideally including all variable data? And how could it be possible to individualise pre-produced identical blisters in large quantities subsequently, i.e. with downstream printing?
The key was to push innovation in the field of digital printing technology. From the beginning of the new millennium, the company therefore actively devoted itself to researching reliable and efficient drop-on-demand (DOD) printing solutions. The UV-curable inks used in this process proved to be extremely durable and abrasion-resistant, delivering a razor-sharp print image of even the smallest characters and codes. To ensure validated inline printing, especially for systems integrated into packaging lines in a GMP-compliant environment, this became the most efficient and safest method in the pharmaceutical sector.
Tailored to the pharmaceutical market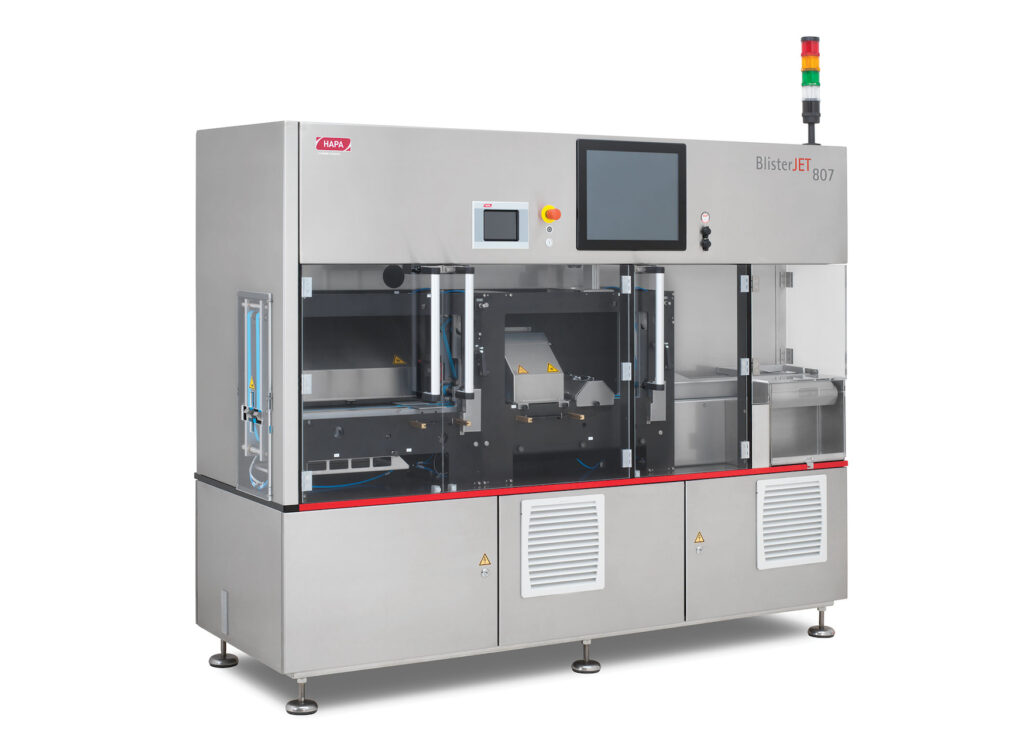 Hapa technology proved superior in on-demand printing, not only on aluminium foils. In quick succession, the company, now part of Coesia, presented groundbreaking innovations: in 2007, the world's first fully digital DOD printing system for inline printing of blister foils was presented, followed by solutions for carton, labels and individual blisters. Today, the portfolio has evolved into a whole range of machines specifically tailored to the needs of the pharmaceutical market.
For example, the redcube plus printing module, first introduced in 2015, can print up to six spot colours or CMYK plus white and even print varnish. The following year, Hapa introduced late-stage customisation for blisters in full-colour printing: The BlisterJet CMYK prints neutral blisters with text and graphics in four spot colours or CMYK. Shortly afterwards, the BFS-Jet was launched, which prints directly onto blow-fill-seal vials, also in full-colour.
However, it is not only the actual digital printing with which Hapa decisively moves the overall process effectiveness forward. Modern technologies are used to create an end-to-end workflow. The scalable Web 4.0 digital printing system, for example, is helping to establish the digital workflow of print layouts based on a PDF in the pharmaceutical environment as well. This PDF-based workflow and the HMI (OptiMate) make processes extremely efficient and reliable. The operating concept of the HMI has won several prestigious design awards since 2015. In addition, integrated image processing software increases product and patient safety.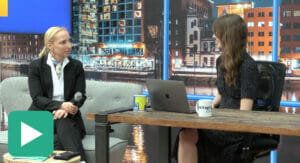 VIDEO • Prof. Dr. Martina Peuser, Leibnitz Fachhochschule Hannover, spoke about agility and how the packaging industry can profit from it.
Weiterlesen »