Specialty label supplier CCL Label is bringing sustainable and digital label solutions and innovative printing technologies to interpack. Different solutions simplify the recycling of primary packaging, among other things.
One of the center pieces of the CCL exhibition will be the "Sustainable Label Family" that shows labels and sleeves that were developed for better recycling of the primary packaging such as PET bottles, returnable glass bottles and other packaging types like HDPE and PP containers. The labels have special built-in features that support in the sorting and recycling stages by easily detaching, floating or shrinking.
"Many of the solutions of the sustainable label family, such as the low-density polyolefin shrink sleeve EcoFloat, the Pressure-Sensitive Label for returnable glass bottles, WashOff, and EcoStream that was developed for PET bottle recycling, have been endorsed by the European PET Bottle Platform (EPBP) and follow the recommendations of the RecyClass. We are active members of these organizations to make sure, that our label innovations are in line with the official Design for Recycling Guidelines because we want to support the increase in recycling of FMCG goods."

Marika Knorr, head of Sustainability& Communication

"Returnable systems for example like we have seen them for beer and water, are on the rise in many countries due to changing legislation and an increased awareness for sustainable solutions. We are proud to have established WashOff labels in the market for many years now and that have a proven track record with major brands when it comes to the labels excellent performance on the washing and refilling lines."

Simon Peace, vice president Sales & Marketing Beverage Worldwide
As a premiere, the company will present the thinnest stretch sleeve in the market that is available at the moment – the EcoStretch sleeve has a thickness of 30 micron. It was especially designed for returnable 1 Liter PET bottles that are typically used in the German mineral water market. This decoration technology has a small carbon footprint to start with, because the material is thin and can be applied to the container without using any heat or energy – the sleeve attaches to the conainer with its own elasticity.
"This extremely thin stretch sleeve is a very sustainable solution. At 30 micron the sleeve is a lot thinner than the 'standard' 45 micron sleeves that are usually used, so a lot less raw material is needed to manufacture this sleeve. This helps reduce the carbon footprint of the product. We calculated that beverage brands can save up to 32 tons of plastic material per 100 million sleeves – which is approximately the weight of over 5 adult African elephants."

Danny Freund, business development director for stretch sleeves

"Printing Technology is ever evolving and CCL makes sure to invest in the latest technologies to serve our customers in the best way possible. We have expanded our digital and hybrid capabilities and can combine different technologies. This enables us to go far beyond conventional printing and enables us to deliver outstanding printing results like high-embelished sleeves that have an outstanding effect on the sales shelf!"

Reinhard Streit, vice president & managing director Food & Beverage at CCL
Source: CCL Label
CCL Label at interpack: Hall 8a, Booth B30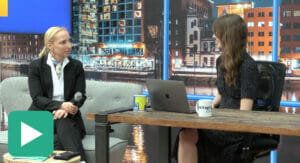 VIDEO • Prof. Dr. Martina Peuser, Leibnitz Fachhochschule Hannover, spoke about agility and how the packaging industry can profit from it.
Weiterlesen »