Berry Global will present its CleanStream process at ADF Talks programme, part of Paris Packaging Week in January. The recycling technology is for contact sensitive applications and uses domestically recovered household waste polypropylene. 
Mark Roberts, Circular Value Chain Director, and Jonathan Pitt, Global Product Management Leader at Berry's Consumer Packaging International Division, will explain the technology behind the company's proprietary CleanStream process, which will provide Europe's first approved recyclate at scale for contact sensitive applications. This will help to further develop the circularity of plastics for containers and dispensing systems in the personal care sector.
CleanStream is the world's first closed-loop system to mechanically process domestically recovered household waste polypropylene (PP) back into food-grade packaging. The technology has recently been granted a Letter of No Objection (LNO) from the US Food & Drug Administration (FDA). This confirms that the post-consumer recycled (PCR) PP produced by the process can be used in levels up to 100% recycled content for all types of contact sensitive applications.
One of CleanStream's major benefits is that it can operate within existing waste management infrastructures. Automated sorting and decontamination processes that integrate online sensor technologies and machine learning algorithms remove the need for the use of marker or other digital technologies.
"Sustainability remains the driving force behind packaging developments in the personal care sector. The ability to incorporate recycled material into packs for contact sensitive applications is a significant breakthrough that supports the move towards a circular and net zero economy. We are delighted to be able to share our progress with delegates at ADF."

Mark Roberts
The ADF Talks programme will feature expert speakers in a range of interactive presentations, panel debates and Q&A sessions, focusing on the key technical, sustainability and regulatory challenges for the aerosols and dispensing market.
Source:Â Berry Global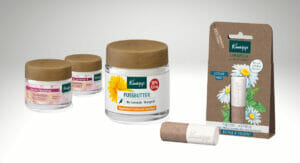 Anyone who wants to make cosmetics packaging more sustainable faces hurdles. Kneipp tries to explore new avenues, materials and initiate a system change.
Weiterlesen »