Together with Eckart and GT/Trendhouse 42 Sappi developed a sustainable alternative for metallic embellishments. The company contributes its premium Alegro Design Nature paperboard as well as expertise in coating substrates to take another step towards sustainability in packaging printing. 
The objective of the collaboration was to create a sustainable, print based premium alternative for metallic effects to existing finishing processes requiring films. For the Metall Ink project, Sappi contributed in-depth knowledge of finishing capabilities and very specific requirements in surface quality, printability, formability and processability.

In the face of the climate crisis the demands made on materials for the packaging market today in terms of sustainability – i.e., recyclability, carbon footprint and suitability for the circular economy – are skyrocketing. At the same time, packaging needs to achieve ever-greater impact at PoS, with attention-grabbing finishes such as metallic effects. This was the challenge that brought together long-standing partners Sappi, Eckart and GT/Trendhouse 42 for a joint development project referred to as Metall Ink.
"This project is about so much more than simply showcasing the partners' products – be it paper, pigments or the latest printing and finishing technologies. It was clear to all of us that we could best take on the market challenges together. With this in mind, we decided to think well outside the box on this project – to create a better and more comprehensive solution with our synergistic expertise in different areas."

Lars Scheidweiler, Head of Packaging Solutions at Sappi Europe
The Metall Ink finishing alternative does not require the use of any foil, neither as a carrier nor as the effect provider itself, and therefore fossil-based production material and their costs can be saved. With this in mind it can also be anticipated that the Metall Ink process for decoration applications will come at a lower total CO2 footprint for the decoration.
"With the traditional finishing processes, you can rely on suppliers who have the technology for hot-foil stamping or cold-transfer in addition to the required printing process. With the Metall Ink approach finishing can be similarly premium, but carried out via printing and hence opening premium metallic decoration to many more suppliers to work with. And this would guarantee widespread availability."

Christoph Sontheimer, Global Head of Business Development at Eckart
The idea was to demonstrate the printed metallic finish under real-life conditions. The partners selected three relevant market segments: perfume, cosmetics and premium beverage packaging.
"We created an imaginary brand and packaging for each segment. We focused strongly on both the graphic and formal design. In addition to several print-based metallic options and combinations we also wanted to showcase different design styles and added unique visual and tactile accents as well as packaging shapes and structures. In the end this results in three entirely distinctive packaging samples, showcasing a magnitude of options in Metall Ink based metallic decorations, visual and tactile effects that boost brand attraction on all levels and appealing to all senses."

Désirée Frackowiak, Key Account Manager Marketing and Communication at GT/Trendhouse 42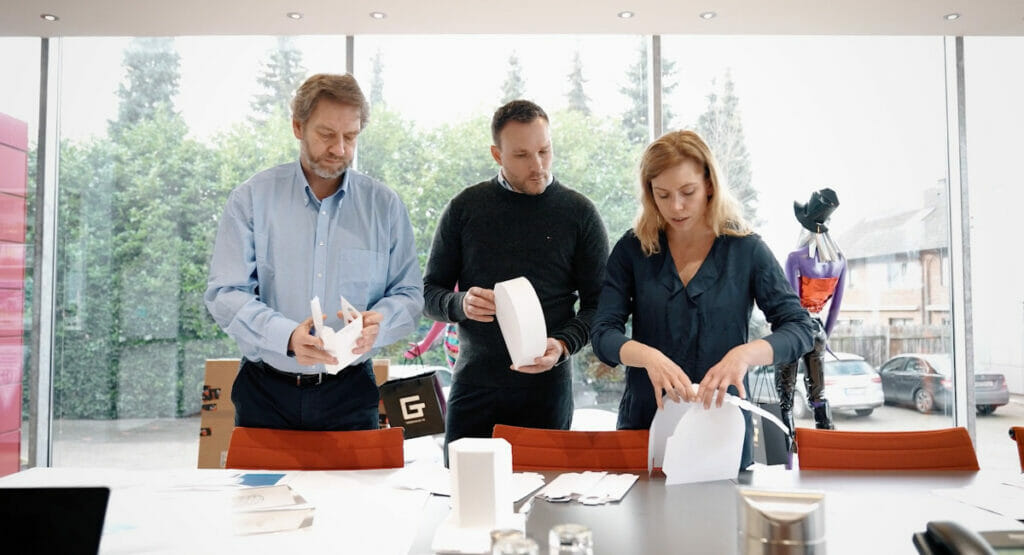 Visual highlights for different packaging
The folding boxes, which realistically reflect the current packaging market and on which the Metall Ink process was used for the very first time, stand out with their designs. All three of the folding boxes received a premium finishing with gloss varnish and embossing. Whereas the beverage packaging for Piccolo bottles was given additional visual highlights with the help of matt varnish and shiny pearlescent silver pigments, the distinctively shaped folding box for perfume received a special haptic effect using sand varnish in addition to the application of matt varnish.
The sample packaging for the cosmetics and skin care sector was developed in the style of the first circular architectural icon in the Middle East, the HQ Building in Abu Dhabi. The packaging is designed as a slip-on box. With a height of 190mm, it offers space for three skin care products. With a depth of 65mm, it is also user-friendly. A stabilising inlet with a height of 30mm is inserted into the base to hold the products firmly in place. As a finishing touch, the three partners designed an oval dome which, thanks to Algro Design Nature's flexibility, is snuggly placed over the packaging like a 'cloche', reminiscent of a cosmetic mirror. The packaging, which also obtains pearlescent gold pigments emphasising the premium quality, was refined thanks to the Metall Ink process.
Dedicated Metall Ink webinars will be offered to the entire value chain of the industry, providing brand owners, designers, packaging agencies and converters the opportunity to gain valuable insights and learn about the process and how they can best capitalise on it themselves. Current developments promise that small, medium and large print runs can be strikingly brought to life with this alternative finishing technique.
Source:Â Sappi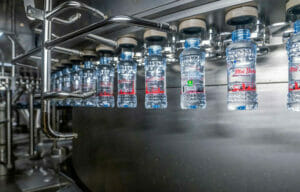 In the Middle East, consumers' purchasing decisions are increasingly changing, especially when it comes to beverages. The demand for bottled water is increasing, and water accounts for a third of all soft drink sales in the United Arab Emirates (UAE) today. Water suppliers have to confront the rising demand and increase their capacities. Mai Dubai also faced this challenge, and turned to packaging solution provider Sidel for support in mastering it.
Weiterlesen »