For the first time, thin-walled containers can be produced from PET directly in injection moulding in just one process step. At K 2022, Engel and its partners, Alpla Group, Brink and IPB Printing will be demonstrating the processing of rPET on its e-speed injection moulding machine with a newly developed injection unit.
With a wall thickness of 0.32 millimetres, the transparent 125-millilitre round containers are representative of a whole range of packaging, especially in the food sector. Thanks to integrated in-mould labelling (IML), they leave the production cell ready to fill. The special feature of this application is found in the material. The thin-walled containers are produced directly from rPET in just one processing step.
Until now, PET could only be injection moulded into thick-walled parts, such as bottle preforms. The final packaging shape was achieved in a second process step – by blow moulding, for example. The modified rPET, processed at K, comes from beverage bottles that were reprocessed at Alpla Group plants. Other partner companies involved in the trade fair exhibit are Brink (Harskamp, Netherlands) for the mould and IML automation and IPB Printing (Reusel, Netherlands) for the labels.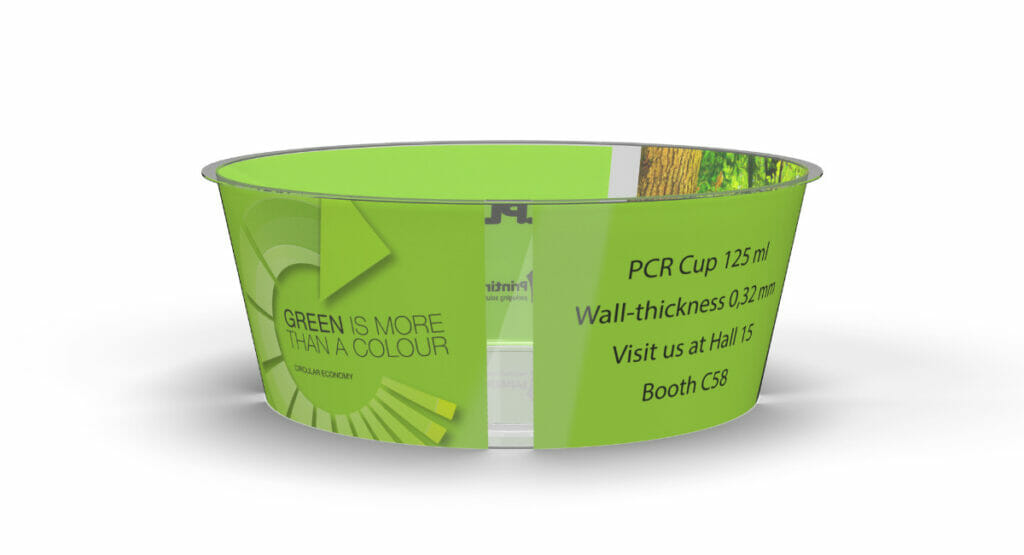 The heart of the production cell is an Engel e-speed 280/50 injection moulding machine. The hybrid machine, with electric clamping and an hydraulic injection unit, was developed specifically for the high-performance requirements of thin-walled injection moulding and now achieves injection speeds of up to 1,400 millimetres per second at maximum injection pressures of up to 2,600 bar. This makes it one of the world's most dynamic injection units on the market. For the processing of rPET, Engel combines the new injection unit with a plasticising unit from its in-house development and production that is specifically adapted to the processing of recycled material. During plasticising and injection, the viscosity of the PET is adjusted for thin-wall injection moulding. Engel's new e-speed enables the processing of any recyclate content up to one hundred per cent rPET.
A mould that can process different labels simultaneously will be presented at the K. The partners are thus addressing different trends regarding in-mould labelling worldwide. For the American market and its requirements, wash-off inks will be processed on in-mould labels, as labels and applications for this market are to be recycled. For Europe, a different technology will be shown: an in-mould label that floats in the recycling process, making the colours with the label easily separable from the PET.
By 2025, according to the European Plastics Pact, all plastic packaging should contain 30 per cent recycled content and be 100 per cent recyclable. Typical materials for packaging food in thin-walled containers are polyolefins or polystyrene. However, according to experts, the above-mentioned goals will not be achievable with these materials. In addition, the European Food Safety Authority (EFSA) has not given the recycling streams a positive assessment. rPET offers a way out to avoid penalties and special taxes. Despite the currently high price of PET, this material thus becomes an economic alternative. EFSA has approved numerous recycling processes for PET, making the material available in Europe.
Moreover, there is already a closed recycling loop for PET and it is so far the only packaging plastic that can be reprocessed into food packaging as a recycled material on an industrial scale. With this innovation, the company partners are paving the way so that other packaging products besides bottles no longer have to be downcycled, but can actually be recycled or even upcycled. This would significantly expand the range of uses for PET and rPET. In addition to the bottle-to-bottle cycle, the establishment of bottle-to-cup or even cup-to-bottle recycling is also conceivable.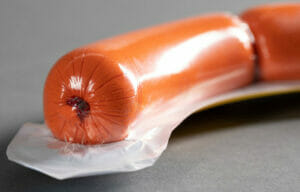 As a part of their sustainability strategies and to foster a conscious use of resources, it is becoming more and more important for companies in the packaging sector to achieve the highest possible degree of packaging recyclability. This extends to composite packaging for food. Composite film manufacturer allvac has had the recyclability of a new film certified by the cyclos-HTP institute.
Weiterlesen »