A marking system is indispensable in the production line. But the coding and marking system is only a small part of the whole production line and many companies do not really deal with this topic intensively until now. The marking should simply run, full stop. But it is precisely this "reliable, continuous running" that many of the conventional marking systems fail to achieve in production practice. Interruptions, time-consuming start-up or set-up times, lack of flexibility during changeovers – one thing leads to another, and suddenly the entire production line comes to a standstill. This is not only annoying; it also costs a lot of money. But there is another way. This is the clear statement from Leibinger, with the new IQJET marking system.
The new generation of coding and marking focuses on sustainability, maximum reliability and significant savings in operating costs. In May this year, the marking specialist from Baden-Württemberg presented the new, intelligent IQJET coding and marking system. The IQJET offers "plug & print" performance and maximum availability without interrupting production. It is maintenance-free for the first five years. In addition, it is a pioneer in the field of sustainability and promises users lower operating costs.
"We plugged in the IQJET and it immediately started running. Flawlessly. It needs virtu­ally no operator intervention while running. Cleaning is unnecessary. And changing the ink cartridges is easier than ever."

Simon Keller, Technical Group Leader, Area Packaging Deli / Tainer, Maggi GmbH, Singen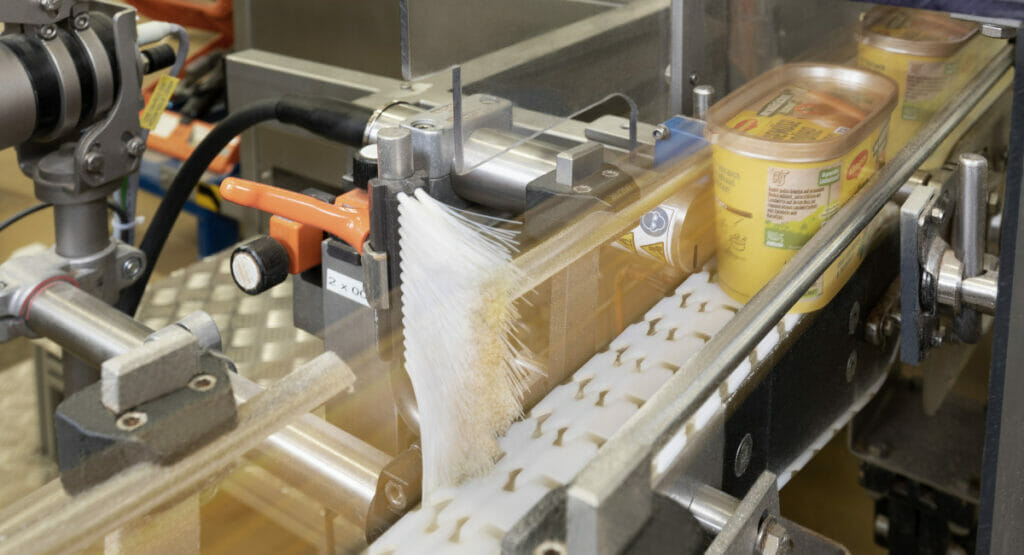 The most common marking systems for printing variable data such as best-before dates, coding, serial numbers, etc. are continuous inkjet printers (CIJ). The great advantage of CIJs, also known as "small character inkjet printers", is their flexibility. CIJ printers are suitable for almost all surfaces, shapes and materials. Coding is contactless. Integration is simple, use is safe for people and the environment, and no protective devices are necessary. The inks are extremely fast drying and suitable for almost all production environments and applications.
Leibinger dispels prejudices
A major disadvantage of conventional CIJ printers that is well known in the market is that they have to be cleaned regularly at every start-up, which means the production line has to be stopped during this time. This happens because the ink in the systems dries up and clogs when they are not in use. Downtime and an unsightly print image after start-up are the result.
This is not the case with Leibinger CIJ marking systems. "A Leibinger CIJ does not require any cleaning routines. The technology behind it is completely different," explains Christophe Lopez, CCO at Leibinger.
Avoidance of downtime due to unique product design
Leibinger CIJ printers feature fully automatic nozzle sealing technology. When the printer is not in use, the ink is sealed in a 100 percent airtight circuit. The ink continues to circulate in this circuit. No ink clogging or drying up, no cleaning, no expensive downtime. "This technology is unique in the market. Airtight and completely automatic pressure nozzle sealing, that's only available from Leibinger," adds Christophe Lopez, , who himself worked for a major competitor for years in the past and knows the landscape of the marking market like the back of his hand.
When the printer is switched on, it starts up again immediately. To ensure consistently high print quality regardless of the ambient conditions, the new Leibinger IQJET also permanently regulates the ink temperature and viscosity.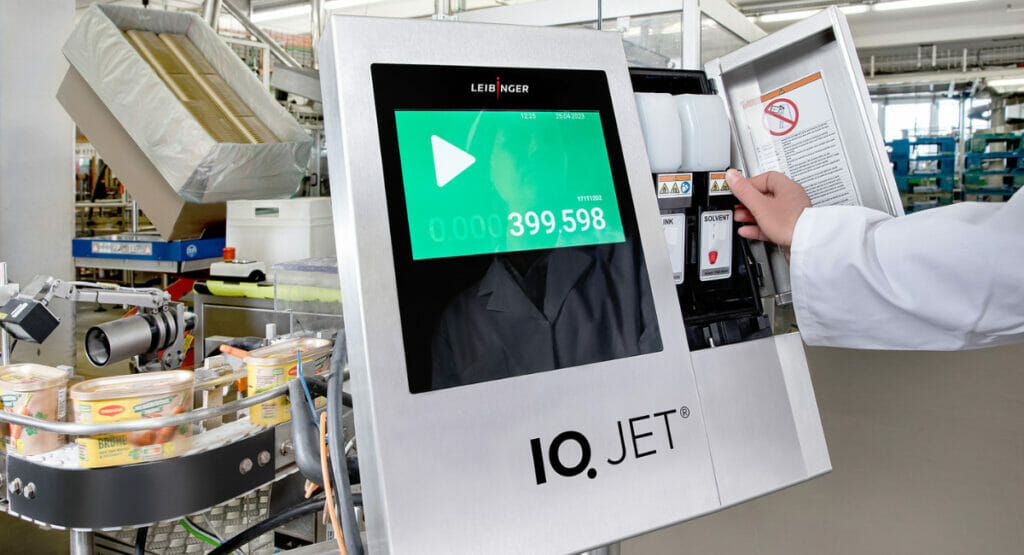 Up to 50 percent lower consumption
Another effect of the airtight nozzle sealing technology is that no solvent is consumed during printing pauses. In addition, the IQJETÂ captures solvent that evaporates during operation and feeds it back into the system. Thus, the IQJET achieves up to 50 per cent lower consumption than conventional CIJ systems on the market.
Example: The IQJET consumes 2.7 ml of solvent per hour. Competitor printers without solvent recovery consume between 6 and 10 ml per hour. Calculated on an average of 6,000 total hours per year, up to 43,800 ml of solvent are saved per year.
Using up the ink cartridges completely and thus preventing waste sounds obvious, but unfortunately it is not in the marking market. Conventional marking systems often require new cartridges, even if they still have up to ten per cent filling capacity. It's an avoidable waste that affects the environmental balance as well as costs. The cartridges of the IQJET printer, on the other hand, empty down to the very last drop and can thus be taken directly into the recycling cycle. In addition, Leibinger cartridges consist of only one plastic (PE) and are therefore easier to recycle.
The IQJET is also a pioneer in terms of power consumption and is the most energy-efficient printer on the market, consuming just 36 watts.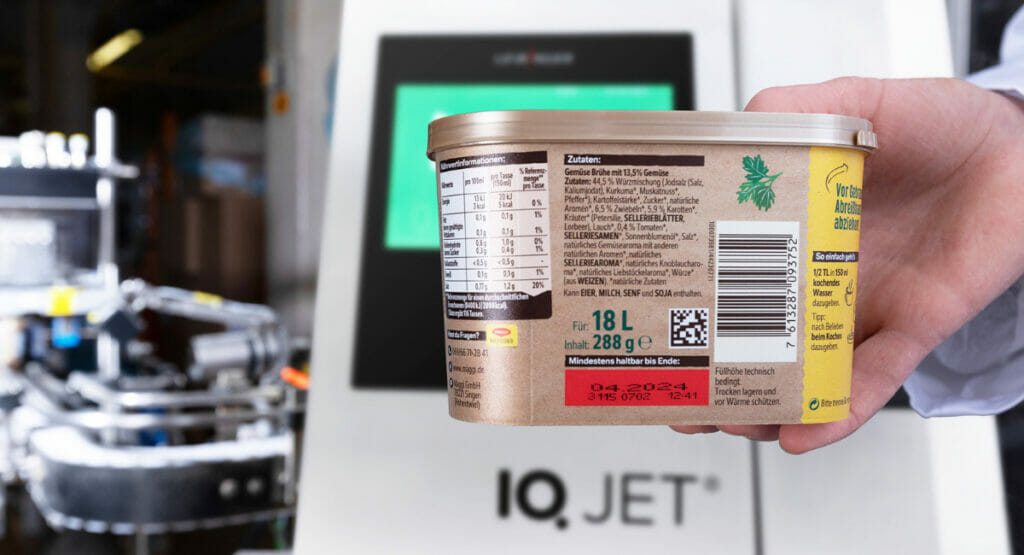 When it comes to integration into production operations via Plug & Print, Leibinger sets a new standard with its IQJET. This is achieved with numerous interfaces, including OPC UA and an integrated PLC (programmable logic controller). With state-of-the-art HMI with a 10-inch touch display and intuitive drag & drop operation, like on a smart device, the system can be operated effortlessly without prior system knowledge.
"With the IQJET, integration could not have been any easier. And virtually no interventions are required during operation."

Simon Keller, Technical Group Leader, Area Packaging Deli / Tainer, Maggi GmbH, Singen
The most sustainable products are those that have a long service life. Leibinger CIJ printers are manufactured with an in-house production depth of more than 85 percent at the production plant in Germany. Maximum control over the quality and long service life of the components are the focus here. High-quality products require less maintenance. This in turn means significant savings in running costs and minimises maintenance and repair-related production interruptions.
The new Leibinger IQJET printer requires no maintenance for five years. This is mainly due to the new product design, which reduces wear. For example, no constantly running main pump is needed for printing operation.
"Any manufacturer who va­lues outstanding efficiency and reliability will greatly benefit from the IQJET. Here at MAGGI, we also appre­ciate the fact that our emp­loyees now have more time to focus on the essentials such as safety and product quality."

Simon Keller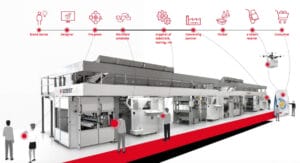 The cloud-based data and remote service platform Bobst Connect plays a central role in realising the vision of the transforming the packaging world.
Weiterlesen »