To ensure that the process between incoming and outgoing goods functions as smoothly as possible, perfect interaction between labelling, identification and digitisation is required. For the practice of electronics processing companies, a special label was developed that also works with ESD containers (Electro Static Discharge).
It is the big buzzwords like "IoT" or "Smart Factory" that keep popping up in connection with the term "Industry 4.0". However, what it's all about are the points of identification and labelling: without a clear and unambiguous assignment of objects, no communication is possible in the digital environment.
The high demand for automation solutions in the healthcare sector and especially in the mobility and general industry markets has ensured that the use of RFID in the supply chain has developed particularly strongly in recent years with its own unique challenges.
With more than 70 years of experience, Schreiner Group from OberschleiĂźheim near Munich has many years of expertise in the field of labelling and is thus a partner for innovative problem solutions: Over the years, the family-run medium-sized company has specialised in the production of innovative high-tech labels. About seven billion labels are produced daily at locations in Germany, China and the USA.
In the electronics and automotive industries, for example, (almost) nothing works without so-called ESD containers. These special plastic boxes are essential for the transport and storage of electrical devices or components, as their special material composition provides effective protection against electrostatic discharges. But there is a catch: "A normal RFID label does not work on ESD containers because the antistatic design of the containers negatively affects the RFID functionality. As a result, they are no longer readable," explains Katharina Totev, RFID Product Manager at Schreiner. The company's DistaFerr ESD label, which has been specially adapted to these substrates, provides a remedy. It is an RFID solution that is primarily aimed at electronics processing companies, including the ifm group of companies.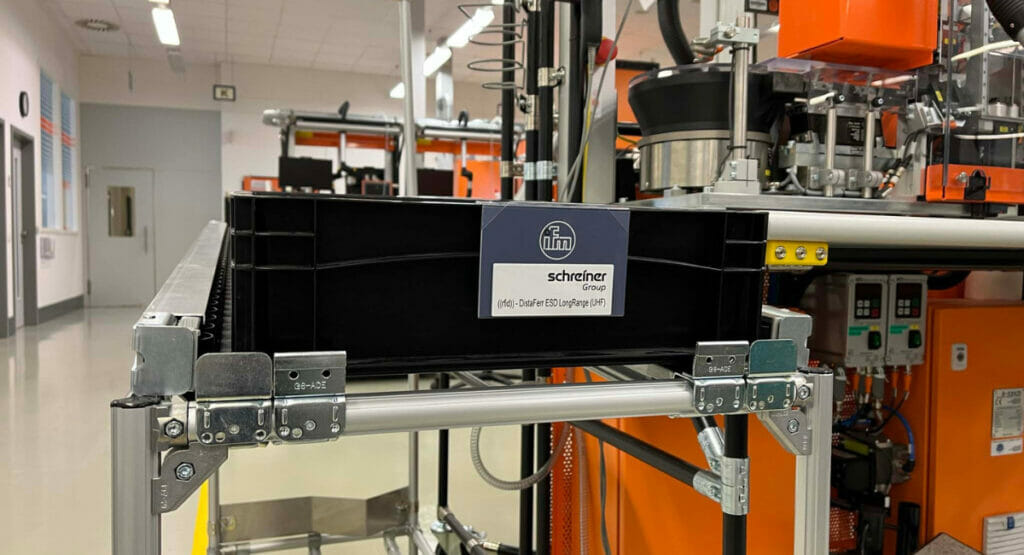 Offering the customer perfect logistics as a decisive competitive advantage in the market is part of ifm's core competence. And the figures speak for themselves: since the company was founded more than 50 years ago, the company has been developing, producing and selling holistic solutions for the digitalisation of the entire value chain and is one of the global industry leaders. The employees are considered experts and pioneers in the field of automation and digitalisation technology and drive the development of innovative Industry 4.0 solutions and corresponding software and cloud products.
"There are three typical sources of error when picking goods: The wrong product is delivered, the goods are delivered too late or too early. This can lead to fluctuations and stocks in production, which ties up capital, causing unnecessary costs and can lead to delayed delivery dates for the end customer. An industry like the electronics manufacturing sector cannot afford a corresponding loss of image. That is why both classic lean management methods and automated processes according to Industry 4.0 are consistently implemented in production."

Ulrich Beller, Lean Manager at ifm
Through customised and optimised systems, the company achieves a delivery accuracy of 99 per cent with 155,000 customers worldwide and around 1.3 million orders per year. And it is precisely these perfectly interlocking processes that matter.
While ifm's headquarters are located in Essen, the focus in Tettnang in Baden-WĂĽrttemberg is on production, development – and logistics. The first step was to further develop the intralogistics for the 14 production lines at the Tettnang site. "The question for us was how we could achieve a really optimal utilisation of capacity and at the same time shorten the walking distances for our employees," explains Ulrich Beller.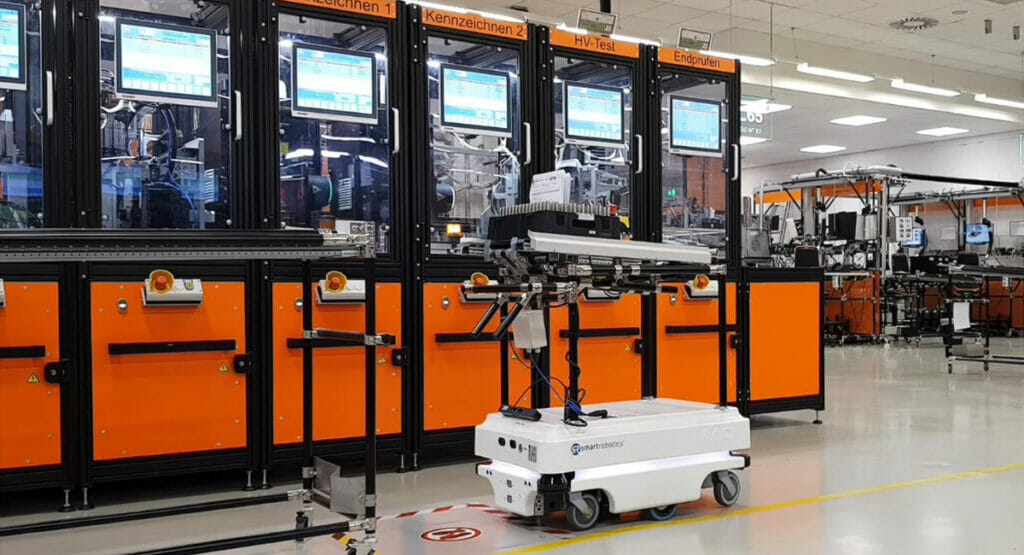 Automated Mobile Robots, or AMRs for short, play a decisive role in the new route optimisation. These driverless vehicles automatically transport products in ESD containers from A to B in the factory hall. The containers are equipped with the RFID-DistaFerr-ESD-LongRange-Label. This means that all material movements can be automatically tracked via track and trace. At the beginning, a docking procedure was used, but during the course of the project, the so-called drive-through procedure became established. Here, the AMR drives through a special racking system, a kind of gate, where both the intended container can be discharged and a new container can be picked up.
It is the pursuit of innovative systems and technologies that unites the two companies. The decisive factor for Beller was that all containers are clearly marked and can be identified automatically:
"The RFID labels were the key for the application. The fact that we now have two steps in one process naturally results in enormous time savings and increased efficiency. Currently, for example, we have five AMRs in operation here. They drive around 1,000 missions every day. If I convert that to kilometres, it means that each vehicle covers about 30 kilometres per day. And this form of support naturally also means an immense relief for our employees."
It is a highly utilised, automated system that ensures that intralogistics can reliably cover a high cycle rate and frequency of order requirements. Because in addition to speed and efficiency, another point plays a very decisive role in intralogistics: reliability.
"Imagine you have a major event as a customer, for example Black Friday. That means you have to react quickly and flexibly to many demands. If your chain from incoming goods to outgoing goods then does not function reliably, that is the super-GAU," says Ulrich Beller.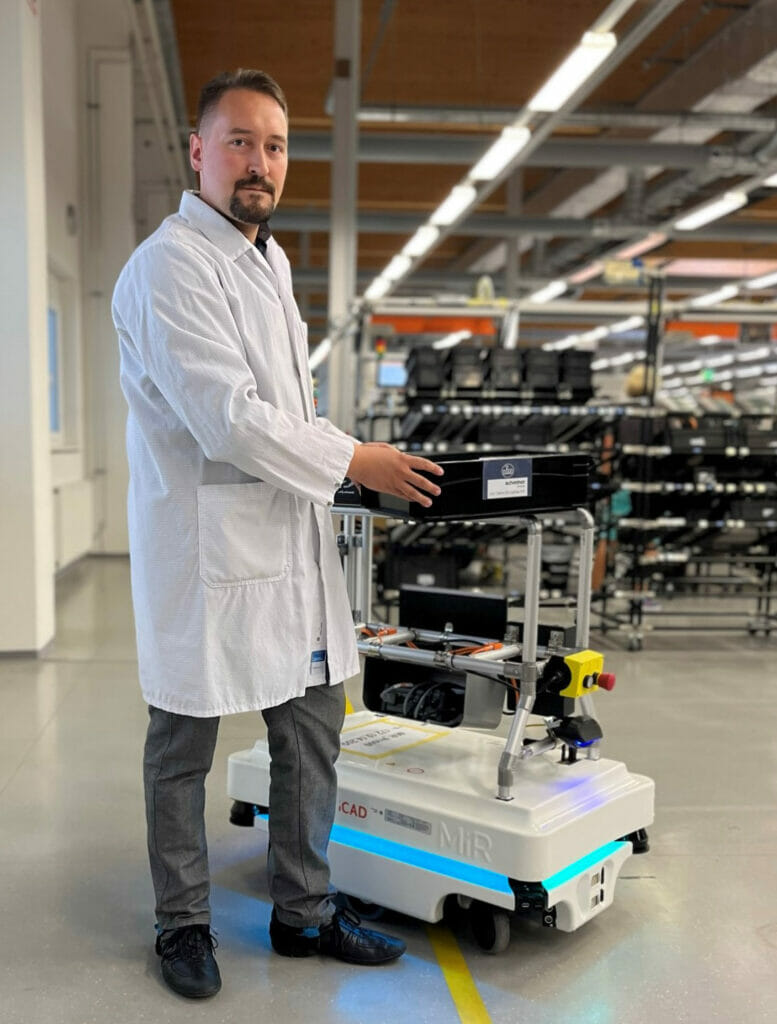 To prevent this from happening in the first place, coordinated processes and the combination of RFID and IT in the ifm-patented solution ensure the necessary stability.
"Schreiner Group is known for the fact that we mainly produce labels that are tailored to very specific customer needs, which are often challenging for RFID technology. The RFID-DistaFerr ESD LongRange, on the other hand, is not exactly a niche product, but has been developed specifically for one application – namely use on ESD materials. The focus was clearly on the fact that the label was developed so narrow and short in terms of geometry in order to harmonise with the many different versions of the narrow bars of the ESD trays and still have the necessary high reading range. The small ESD label measures just 69 x 15 millimetres. What is special about this case, however, is the combination of our labelling and the Automated Mobile Robots from ifm."

Katharina Totev
When it comes to a successful collaboration, the end result is a solution that is one thing above all: customised, unique and designed to make life a little easier in certain areas: tracking all processes digitally right from goods receipt, avoiding errors within intralogistics, increasing throughput speed and ensuring satisfied customers with an optimal delivery rate: with these benefits, the system is of course not only of interest to internal logistics in Tettnang, but can also be easily transferred to other companies thanks to the different components. Smart, efficient and transparent.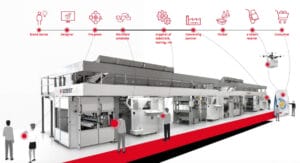 The cloud-based data and remote service platform Bobst Connect plays a central role in realising the vision of the transforming the packaging world.
Weiterlesen »